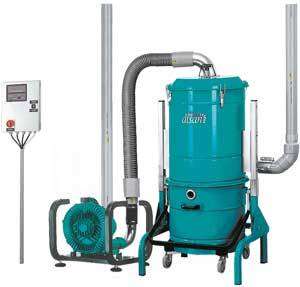 Central Vacuum System - A01
Item number:A100
Central Vacuum System A01
Description:
"Modular" is the name of the product line of Disan central vacuum cleaners for industrial use (for example hotels, spa, industries, factories and companies).
The central vacuum cleaner A01 for only one operator has a motor power of 2,2 Kw.
The Disan Modular line guarantees durability, constant high suction power and easy handling in the industrial sector. Central vacuum systems by Disan clean fast, thoroughly and efficiently.
Details:
SIEMENS turbine made in germany
three-phase side channel motor without transmission, secured on a metal frame, IP55 safety degree
cyclonic dust separator in steel, painted with epoxy powder, secured on a metal frame
filter chamber equipped with industrial-conceived star filter made of special polyester cloth with high withholding properties
deflector for the mechanical- gravitational separation of dust
dirt receptacle on wheels with disposable plastic bags and cushioned fasteners
safety and compensation valves, arranged for pressure compensation system in the dust bag
manual filter shaker
electric control box with IP56 safety degree
realized in accordance with CEI norms
low-voltage (12 V) outlet and equipped with electric chart for linkage
connections for correct linkage to the piping network and all other parts and accessories for the professional setting of the system
Central vacuum cleaner A01 Pdf
Made in Italy
Motors made in Germany
Before delivery Disan products undergo a thorough quality control.
On request all three-phase engines are available with 500 Volt.
Accessories:
Automatic filter-shaker: Mod. 100 l Art. Nr. IS92 / Mod. 125 l Art. Nr. IS01
Grill and pipe complete with 2 plastic bags. 100l Art. Nr. IS05 / Mod. 125l Art. Nr. IS07
Disposable plastic bag for: Mod. 100l Art. Nr IE601 / Mod. 125l Art. Nr. IE 602
Cyclonic deflector: Mod. 100l Art. Nr. IS08
Zinc-coated muffler with coupling Durchmesser 70mm: Art. Nr. IS10
| | | |
| --- | --- | --- |
| Area | | 500 m² |
| Total surface: | | Up to 500 m² |
How many simultaneous users
Hide
| | | |
| --- | --- | --- |
| How many simultaneous users: | | 1 user |
Technical information
Hide
| | | |
| --- | --- | --- |
| Volume filter chamber | | 160/210 l |